Unbeknownst to many, in the season 2017/18 KTH Formula Student produced the best powertrain on the starting grid at Silverstone - according to Mercedes AMG High Performance Powertrains. Our team has received an award from the 5 time constructor World Champions in F1 - titled "Best High Voltage Powertrain Implementation".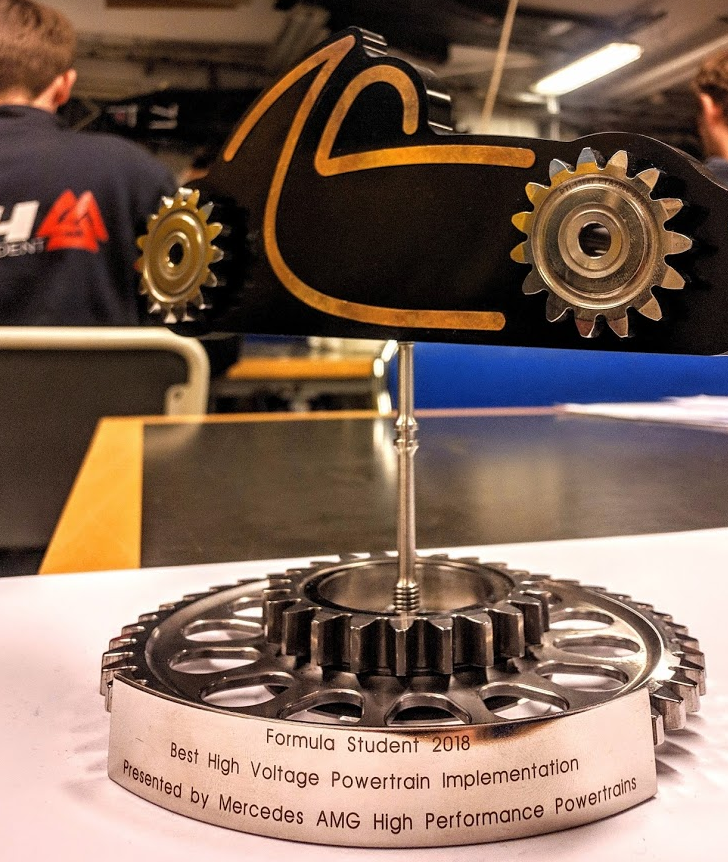 Our award from Mercedes, on display in our garage in Stockholm.
Why did we receive this award? Truth be told, it simply cannot be brought down to one single reason. The tricky thing about engineering is that a lot of the competition happens under the hood, out of sight, out of mind. Even if we might know how our powertrain functions and performs - we have little to no knowledge about other team's technical solution. That's a question that only Mercedes can answer - and we'll leave the speaking up to the award.
However, to get to bottom of this question, one might wonder what makes our powertrain special. First and foremost - what was our goal with this powertrain? What are some design objectives and targets we had, that influenced our engineering process and led to such humbling award? Sindhuja Balaji, team leader at Powertrain and Electronics, gives her insigt on the topic.
"For the ev14, a new battery pack was made as part of the project course. The extra time put into the design really accelerated our progress. In congestion with that, we have designed a battery charging station, complete with a wagon, which simplifies the battery charging and assembly."
She tells us about the changes under the hood;
"We worked a lot on packaging, and made everything more organized, such as separating the High Voltage box from the Low Voltage box. The judges were really impressed by the packaging of the cells, supplied by Melasta; the team designed new cell holders making the battery more easily serviceable."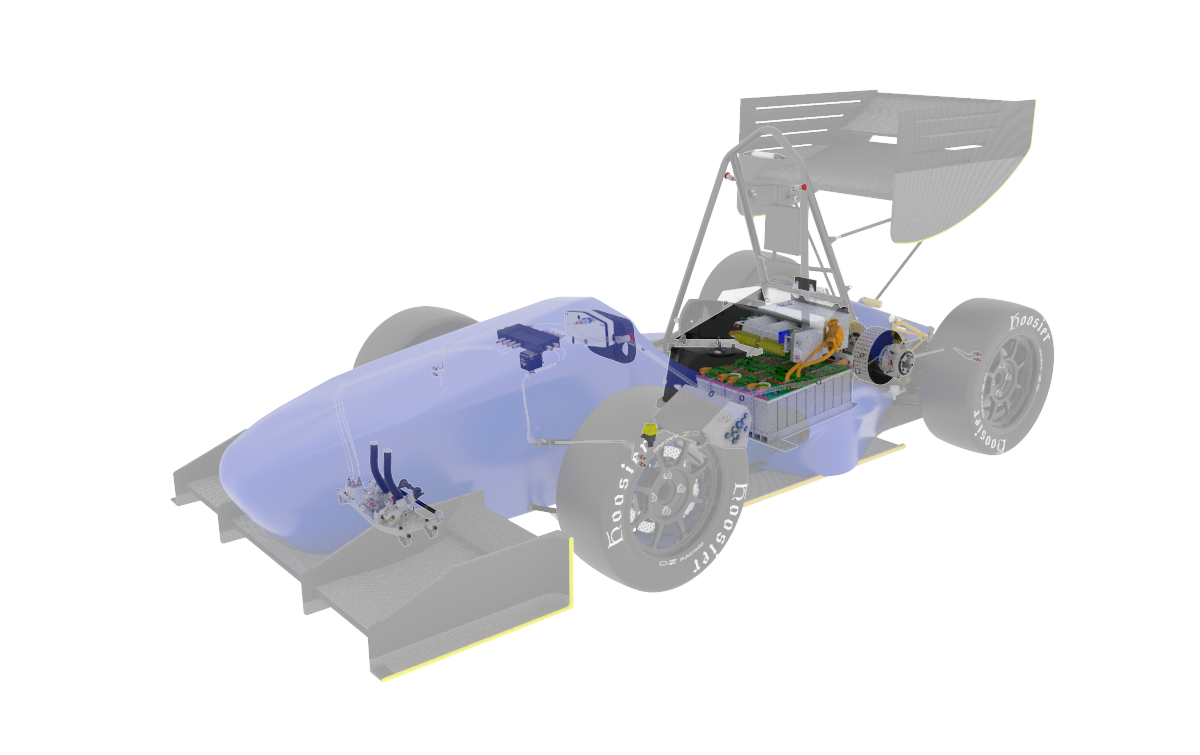 Overview of the electric systems in the ev14.
To achieve a great and competitive package, the powertrain must be integrated well into the chassi. This task is often left up to our Mechanical Design Group, who collaborate with Powertrain and Electronics to achieve the best possible technical compromise. Previous team leader Patrik Ringdahl, tells us about the challenges they faced during the integration process;
"First off, packaging the drivetrain was really tricky. We put a lot of thought into integrating the powertrain so that it's easily serviceable, while striving for optimal center of gravity and weight distribution. We managed to save a lot of weight by integrating the inverters into a custom made chassi."
An electric car, much like your ordinary combustion road car, is a complex system with many components. However, unlike your ordinary combustion road car, a small electric race car is a relatively unresearched subject. Information regarding it's design is sparse - and a lot of the technical innovation actually happens at our small and humble garage in Stockholm, Sweden. Somehow, we managed to take that innovation one step further than other teams on the grid at Silverstone in 2018 - resulting in one of our proudest achievements to this date. To Mercedes AMG High Performance Powertrains- we wholeheartedly thank you.
But most of all, we thank the great team of 2017/18 who managed to put together a package worthy of this achievement. Even though our season ended early due to the team not passing scrutineering, we are now working harder than ever to deliver the competitive car that we - and Mercedes - know that we have.